Chateau Semeli 2007: A touch of class
14/9/2019  Cabernet Sauvignon-Merlot. PGI Attica. One of the reasons I could not willingly give up red meat is that there is hardly anything else to match the
compelling fullness and complexity of great red wine and yes I have tried, in vain. So there is a reason to why you will usually see the thick very rare beef steak pictures next to the ones of aspiring reds I try to not to evaluate, but communicate rather the experience of savouring, if lucky.
The wine was crαfted in the last quarter of the last century by oenologist-viticulturist A. Popolanos for Giorgos and Anne Kokkotos of the Stamata Semeli Chateau aiming for the top, at Giorgos's demand. Cabernet, Merlot and Savvatiano vines were planted at the advice of the Greek Institute of wine and the wine surfaced the Greek market in the nineties and earned a double gold medal at the Bordeaux Wine Expo while its white sibling, Semeli white, of humble Savvatiano startled the Greeks with its quality and finesse. It became one of the iconic Greek CBS/ CBS-M blends at a time when no one believed good wines could be made in Attica. The others were Domaine Katogi Averof CBF, Domaine Chatdzimichali CBF and Tselepos CBS-M, if my memory serves me well. Sparing you more history, how did it fare a few nights ago?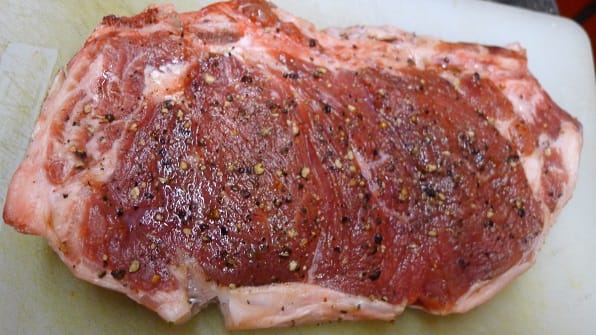 Extremely well. 3 1/2hours carafe, then used ice to bring it slowly to 18 degrees using the Lallement Cabernet Merlot glass to monitor the wine all along. No sediment. Clear dark ruby, vibrant. Clean intense nose of sour cherry, cassis, mint, eucalyptus, black pepper, dates and black corinthian raisin. Almost youthfully acidic mouth, layered tannins, tight structure, full-bodied, yet elegant and intense, long aftertaste. It opened very slowly, developing more aromas and bringing cassis forward instead of the sour cherry, becoming more vegetal, green bell pepper. Drank very-very small sips savouring and reflecting until Godot came round. By that time it was wholesome and still developing. More supple, more layered, more of.
The rare grilled sirloin was a perfect match, an alter ego, an opposite number. Red protein met tannin in a tight, almost austere harmony, as it should with a Cab. And we savoured every bite and every sip, reflecting on the development of the wine, the jazz on the stereo, which could easily have been Glen Gould playing Bach or Bizet, while protein stood its ground, protecting finesse and austerity, allowing for depth of expression, nuances, colours, interlaced aromas. A great night. Great wine? Afraid to use the expression, is it politically correct? No one knows anymore. But I know I love exactly these wines, that take longer to open, develop slowly and are very rewarding if you allow them to.
Thank you for reading.