The apocalypse of Apokalypsis 2012, Nemea, Greece
   18/1/2018 Apocalypsis is Xristos Barafakas newest red label and flagship. When I tried it during the Great Nemean Days 2017 I told him "at last, a wine of yours
with the intensity of red and black cherry that must be the trademark of Nemea!".
    But a little while ago I happened to open a bottle where the obvious, luscious fruit aforementioned was missing. I told him, we could not make out who the culprit was, myself not having given the bottle sufficient time to open up, or inefficient contact between the cork and the bottleneck, that trapped air and killed the fruit…I thought the latter, though the first one was also true to an extend.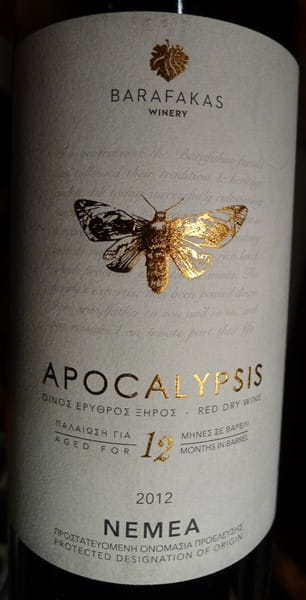 But yesterday,I was having Don Muchter for dinner, a Dutch journalist with whom we had worked together in the past, going up and down the Korinthian Mountainside for days, planning routes and trying the wines of local wineries and I opened another bottle. Despite the fact that the fruit smelled gorgeous to start with, I carraffed for 2,5 hours, the minimum a real 5 years old Nemea needs to breathe. I cooked the subsidiaries: casarecce with grilled yellow peppers,  Portobello, onions and garlic and for salad boiled broccoli with extra Virgin olive oil and lemon and cabbage with ruccula. Beef rump steak warmed up on gas fire to rare-blue.
   Dense red and black cherry and black Greek plum (they are sweet and sour), nuances of cinnamon and clove, some cedar wood and a lot of dried plum and Korithian blackcurrant (also sweet and sour) at the end. Same fruit in the mouth, dense, full, with very nice long finish, voluptuous. Beautiful wine, was nicely supported by the food, that did not try to steal the show. Lifted the night high, Don was impressed and when it was all over we were looking at the bottoms of our glasses. Its inherent acidity is well integrated in the body and aided by the 13,5 alcohol will give it another 5-6 years of prime. Don't leave it that long, winemakers have to make a living and you must have a good time too!
   The fact that it was selected for the Aegean Airways wine list says something about the wine too, as Konstantinos Lazarakis, the first Greek MW is the man who decides.