Domaine Tselepos 2006, Cabernet-Merlot
9/2/2018…and thy breasts to clusters of grapes…Song of Solomon 7:7  Intense Bordeaux-like nose: cassis, black raspberry and blackberry, Greek sweet & sour prune,
black cherry, some mint, bell pepper, dense dried sour cherry. 12 months in new French barrels is nowhere to be seen, apart from the tight structure. Just as it should, how nice. Elegant, narrow waisted wine, tertiary aromas come slowly forward, half-smiling, left eyebrow, raised…It lasts in the mouth urging you to keep it in as long as…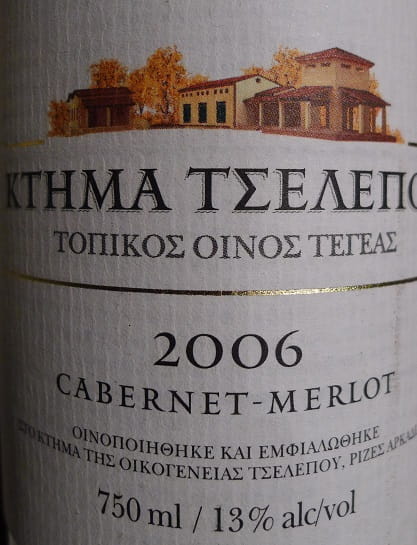 Three hours earlier I had decanted the 11 years old bottle in carafe, excluding and trying the last 30ml that contained the sediment. Impressed. That young? Such fresh fruit?  Such elegant tight structure? Well, let's see how it develops…Nipped out to get support. It was Tsiknopempti, dating from ancient Greeks, a day where we eat a lot of grilled meat in Greece, a rite of spring feasting and libating for good crops. So I acquired 230gr of lamb and 460gr of beef meat, one aubergine, red and yellow peppers and mushrooms. Back home I used two large knives to chop the meat in mince, then mix it with finely chopped onions, peppers, tomatoes and parsley to burgers. Tiring it was, but when we tried the burgers it was worth it. Waiting for Godot, I grilled the vegs including one onion and one tomato over gas, pulped the aubergine, fine-chopped the rest and mixed them all to a crunchy aubergine salad with my own olive oil, pomegranate sauce  and lemons, garlic and coarsely ground pepper too. Well, if the wine proves to be a hit, as it seemed to, we ought to have provided some worthwhile support, what?
   Godot having arrived, we grilled  a sausage for starters and poured some rose Dryopi (Tselepos's rose from Agiorgitiko) debating on the artificial intelligence of the crowd, while the burgers were being grilled. Them done, we got serious, put some Vamvakari* on the hi-fi and at last, poured some red in our glasses. We had two little salads too, one boiled, one raw. Having tasted  the wine and then trying  the burger, we marveled that the wine did not yield. Meaty, not burgery, with a 3-dimensional taste of each one of its ingredients, a hand grenade   in the mouth. Why I wonder, since I made it, you might ask. Well, it is one thing to contemplate, another to create and another still to taste it.
   We were good company, wine, the food and we, Markos* notwithstanding. We stood and wondered with every sip whether it could take the next bite, but we merely had a chain of sighs without weak links. Oh, the things good wine, some good food and good company do to you…The meaty complexity was in open dialogue with the crispy aubergine salad and in counterpoint with the dark Cab fruit, the red of Merlot, which 11 years later had darkened up, the beautiful silky tannins and they lasted long and finished together, while we went on, despite the fact that the last feminism wave denies it. Ah, Wine, Humanity's first artificial intelligence, what a child! We moved on to Abbey Lincoln,  Jaques  Verriere, Wynton Marsalis and it not only did not yield, but kept opening up and getting better.
  If you ever find any of these vintage bottles with more tannin and tight structure, hit them. So that you realize how much damage you have caused by crying out for less tannin. Course I'm a bad man. Good ones are in prison.
   You're not so good yourselves, mind you. If you were, you would show your preference to this label by purchasing, instead of opting for the less demanding, but more successful new label Dilofos.
 *Markos Vamvakaris is a legendary Rebetiko (Greek Blues) early –middle 1900's  musician.