Megas Oenos 2012, Domaine Skouras
    19/05/2010. One of the oldest Greek Wineries, it sports 15 labels today, 7 white, 2 rose and 8 red. Today's wine is one of the two it was launched with, the other being
Megas Oenos white of mainly Moschofilero, now cloned to Portes and Salto. It was with these two wines I came to be acquainted in 1998 with George Skouras at his first winery in Pyrgela, outside Argos.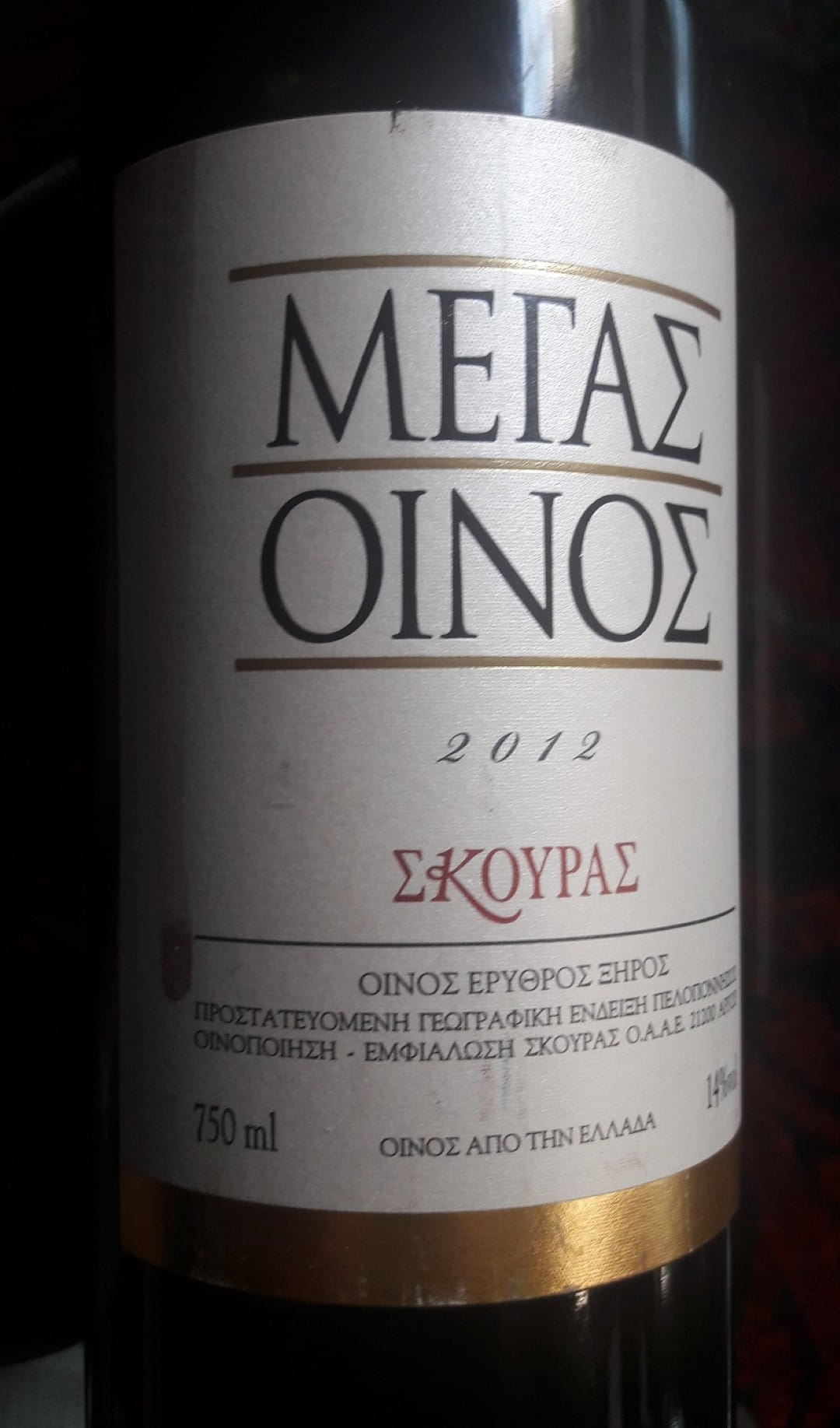 Megas Oenos is one of the longest-lasting Greek red wine labels, being launched in 1986 with the effect of a thunderbolt at a time the Greek renaissance was just starting to materialize. Not only the Cabernet Sauvignon-Agiorgitiko blend still remains the signature wine of George Skouras, but it brings out with immense clarity and finesse the typicity of the varieties, the mesoclimate of the vineyards, the elegant austerity of their maker and the classic by now style of the blend. At a time when few even knew in Greece what a red Bordeaux blend is, substituting Merlot with equally voluptuous Agiorgitiko not only was innovative, but internationalized the wine, prompting the foreign oenophile to try the Greek version, a line of thought followed by other prominent winemakers with Sauvignon Blanc-Assyrtiko or Semillon-Assyrtiko, etc. with great success.
    Grapes are selected from areas where aromatic and structural finesse prevails over body and power: mountainous Corinthia for the 38 years old CBS vines and Gymno, Nemea for even older Agiorgitiko vines. Yields are frugal 27-30 hl/ha and although CBS is only 20%, it prevails in this bottle, maybe because we have a slender, aromatic Agiorgitiko, or the gradual emergence of the emperor 8 years later.
   There is a catch here, the wine requires at least 5 years for tough CBS to soften, despite the abundance of Agiorgitiko, in this case the faithful were rewarded with 2012.
   Two and a half hour carafe at close watch. It opened slowly, gradually, but it released the aromatic bliss of dense cassis, then rich Agiorgitiko black cherry, some black pepper further back and finally dried Morello cherry and Greek sweet and sour prunes. Tight mouth, pronounced acidity and beautifully layered tannins. Amazing structure, though still closed. Long delightful finish. As time passed we were discovering more dark fruit, blackberry, blueberry, some mint and tobacco, while the overall feeling was sweeter without ever losing its elegant austerity. Cassis was always front, engulfed in rich black cherry, while we detected some black raisins, but just.
   The very nice rare rib eye and own-made beef burger partnered beautifully but always remained second fiddle.
   We sniffed our glasses constantly and took small sips to make it last. Sighs. Exclamation marks. Miles Davies. John Coltrane. Bach. Bizet. It was the beloved Cabernet, the superb blend, the complexity, the finesse of the tannins, the bringing forward of typicality, the clarity to the end. Live rich fruit made us search in vain for more tertiary, we simply found the same, more and more layered and denser, a lasting delight. The wine is still at its prime and my guess is it just entered it and there are at least 5-8 more of these years ahead.