Kydonitsa 2019, Domaine Theodorakakos
     30/4/2020 Kydonitsa 2019, the artichokes and Renee Fleming. I have referred to Nikos Theodorakakos before, he is the man who introduced us all to
the  Kydonitsa grape variety long before it become an upcoming and promising variety, first plantings just before 2000, first bottlings just after and his signature wine along with his Mavroudi.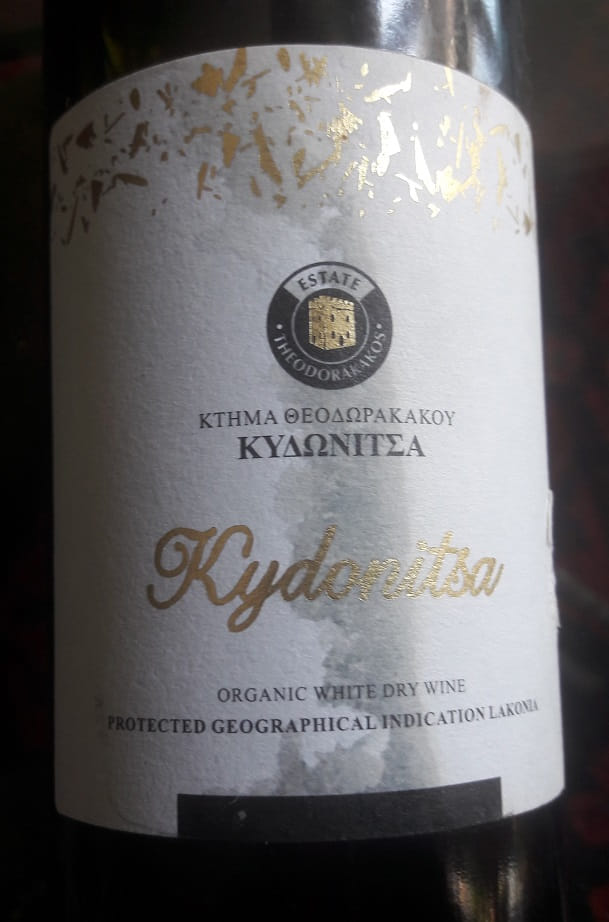 Pale yellow. Clear quince nose (Kydonitsa means little quince in Greek), lime, grapefruit zest, white peach and nectarine, unripe pineapple, melon. Deceptive higher than medium acidity hides behind the plush but elegant body. Almost intense longish finish, delightful, due to the exceptional balance of the aromatic fleshy character of the fruit balanced by the acidity.
     There is a recurrent theme that crops up each year before Christmas between us wine lovers and winemakers/wine merchants as we try to convince them not to have early bottlings, thus allowing wines to mature in the tanks properly, resulting in fuller body and increased complexity. Unfortunately, lovers never amount to a sizeable enough task force to influence society. The specifics of this however compel me to share it with you.
     I tasted the Kydonitses of the exceptional 2019 vintage at the Peloponnese Wine Fair in December and while they had an amazing nose and elegance and emerging structure, the body was insufficient for the variety and the vintage. But they had only been bottled between 5 and 30 days earlier, barely 3 months after their harvest and like most of the rest of the white and rose wines at the fair they mainly very promising. I had also tried the very wine later, sometime in March and while there were beautiful finesse and balanced acidity, the body was lacking in flesh.
     Now artichokes are supposedly wine killers, meaning they neutralize the aromas in wine. So there is a no-no in this holy wine world, which devil ridden again tonight, I once again decided to ignore (I usually do that by choosing a high acidity wine) although the dish I had designed incorporated them in their worst possible for the occasion: raw.  Then why not a Cretan Liatiko raki, as it should be Nicoletopoulos? Because I was hungry and my dish was finely chopped raw artichokes, garlic, dill, EV Olive Oil and lemon pasta with an abundance of grated Parmesan and sour Naxos goat cheese. So why did I not open a higher acid wine? Because I said I was hungry and the Kydonitsa was already chilled and I have a tendency towards vivere pericolosamente.
    So I prepared my plate, grated and grated again, stirred again and grated again cheese and green pepper this time, tasted, superb, uncorked decidedly, and served myself. Apocalypsis! Beautiful complex nose as before but the wine had entered powerband: the body was full and not only did it not bend or lose its temper, but engaged in discourse with the artichoke dish, while Renee Fleming was the Merry Widow on the stage of MET that night, free streaming thanks to covid 19. It was an amazing night, food and wine were made for each other, Renee shining in a role tailored for her with the amazing music of Franz Lehar winking coyly at me. Even when I finished the food I kept taking very small sips, swirling the glass, sniffing and sighing from time to time and it was only due to the strength of my character that 200ml were salvaged for another day in a small bottle. The extra body gave a deceptive round feel of less acidity, untrue judging by the way it handled the artichokes and the abundance of grated cheese, while the elegant balance made for a delightful finish.
Moral of the story 1: do study the textbook, but when you're done, take risks. Without risk there is no movement, no life. And if you lose the bet, make sure you do it gracefully.
Moral of the story 2: 2019 was a great Greek vintage! Let us all for these wines!
P.S. The salvaged wine was retried with grilled fish and greens. It shone through again.