Portes Moscofilero 2019, Domaine Skouras
    13/7/2020 Moschofilero 100%  and George Skouras's view of what the main perception of the varietal typicity should be. If you are the type to explore the full works
of the potential of the variety, you might have to move on to Salto, the more complex and austere Moschofilero of the winery with rewarding depth.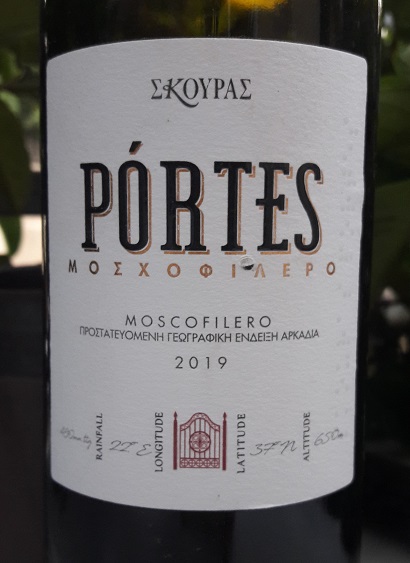 A light green-lemon colour with hints of gray prepares for an explosive nose of lemon, lime, grapefruit, lemon blossom, lemon and bergamot zest and rose petals. An aaah nose. In the mouth high acidity envelops the medium to light body and the same aforementioned fruit, plus almost unripe white nectarine, all expressed with high intensity. The whole is beautifully balanced to an almost overwhelming freshness with a nice tang, leading to a delightful finish of medium length, making you ask for more, please, sir.
   Perfect for Asian cuisine, but being Greek, we opted for fried marides and own version of Greek salad. A clear majority winner.
  *Revisited on 10/10/2020, following a Cycling for Wine 42 strong visit to the winery I updated the tasting since now the wine was no longer freshly bottled, therefore unraveled its full potential: the same aaah nose and mouth-watering acidity, but the body was clearly medium, the citrus and zest were equally well expressed and the greater balance presently led to a longer, even more delightful aftertaste.