Greek Ash Wednesday 2020
Drink Greek wine!
                                      Well, today it was classic Greek briam for lunch and shrimp pasta for the evening!
Classic Greek briam is courgettes, potatoes, green bell peppers (optional, but nice), garlic, oregano, fresh tomatoes, parsley and extra virgin olive oil. No onions, it will over-sweeten the dish, unless you add aubergines, in which case it is tourlou, not briam. Chop the tomatoes finely, mix all, season with salt and pepper and spread in your oven pan. Do not fill up too much, they will not end up crunchy, as in the photo. Bake at 200, at least for the last 30 min, approximately one hour in all. If you do not fast, real feta cheese is imperative. You drink Malagouzia, Savvatiano and Tinaktorogos, whichever of those you can get your hands on, Schinopefko (new age Retsina) as well. Papagianakos's Savvatiano is fuller-bodied and classy, Mylonas's is more mineral, herbal and elegant. Gikas's Malagouzia has an elegant barrel job that leaves its acidity intact, adding complexity, while the other one shines through the expression of the variety and terroir. Tinaktorogos (the one that shakes off its berries) is full-bodied one of a kind you should try.
Shimp spaghetti needs fresh shrimps, the affordable kind, cherry tomatoes, spring onions and garlic. It also needs a light hand with the pan. You sautee the shrimps for 2-3 min both sides in total, may add white wine and then the cherry tomatoes, just enough to soften them, you do not want to turn them to a sauce, say one min stirring constantly, but gently. By now you should have your pasta boiled to Italian al dente and empty it to the pan, stir to mix and cover to homogenise for 3-5 min, gas fire off. Serve.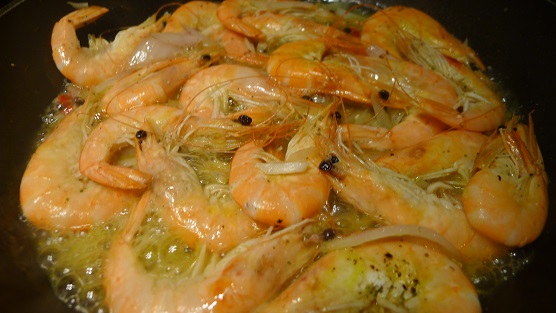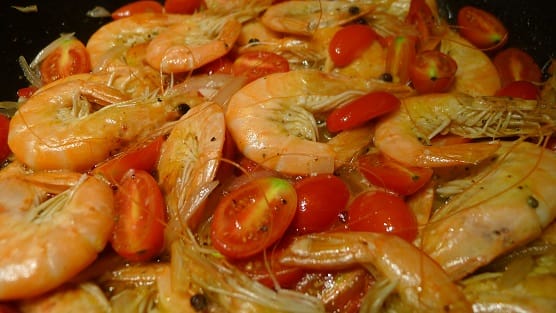 Ideally, you drink a Mantineia classic, Moschofilero that is or its brother, Blanc de Gris, which has spent time on its fine lees for increased complexity. Both have the crisp acidity and citrus flavor of the variety, the latter has tertiary dried bergamot peel and lemon zest aftertaste…Schinopefko can play ball too, as can the others, feel free to improvise according to your cellar track, but don't forget to drink Greek wines!