Greek Othodox Good Friday 2020
Personally I fast with something simple on this day, such as bread and olives and a tomato.
                                                But not everyone does, and I respect that as I expect them to respect me.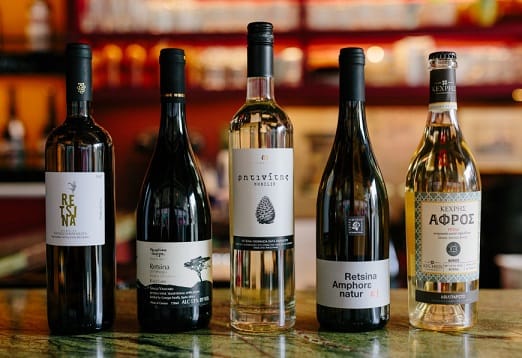 So here is a simple tasty plate without olive oil: paximadi (dry baked thick slices of bread), tomatoes, olives, spring onions, fresh garlic maybe, dill, capers, rucula. Just mix them well and add salt.
If you cannot do without olive oil, then the next plate, photographed step by step will probably do. Italian radishes, chopped in one inch increments, fresh garlic, lemon and olive oil. Grated or finely chopped dried nuts, I use walnuts or pistachio instead of parmesan and sea salt flakes. Simply stir the greens and garlic in a couple of tablespoons of olive oil throw in the pasta al dente, stir in the nuts, turn the gas off, cover for 3-5 min and serve.
I drink something humble, such as Retsina Kechribari or whatever white I have opened in the fridge. You may want to try the others, new age all of them and one sparkling. Or use whatever you already have…